Regular price
$169.99 USD
Sale price
$79.99 USD
Unit price
per
Sale
Sold out
Share
Enjoy the classic beauty of an amusement park right in your own home with the Amusement Park Series DIY Music Box 3D Wooden Puzzle! This retro-inspired puzzle features iconic rides like Spinning Teacups, Swing Rides, Ferris wheels and more, all in vibrant detail and with a beautiful accompanying music box and LED lights for an extra special touch. Bring fun and wonder home to share with your family and friends!
 TIlt-A-Whirl Spinning Cups
The overall shape of this TIlt-A-Whirl wooden 3D puzzle kit resembles a gorgeous stage, with two red and blue color curtains wrapping it.
Behind the classical atmosphere of the half-rotating staircase, the tall rotating chassis stands at an angle. After the power is turned on, the huge chassis then rotates.

 The five teacups on the chassis also rotate regularly between the gorgeous running lights.
With the music 'Wind and Moon' playing slowly, this whole DIY music box kit is an amazing vibrant stage play. Challenge yourself by assembling all the pieces together and build this Tilt-A-Whirl music box wooden puzzle kit.

Swing Ride
Inspired by amusement parks' swing rides, DIYative™ Magic Swing Ride DIY Music Box comes with built-in movement that suspends seats from the top of the rotating carousel accompanied by music "Merry Go Around" and beautiful lights. Build this exquisite 3D Wooden Puzzle and enjoy the ride!
Wonder at the retro ceiling design, valance with lamp belt surrounding the cornice together, the atmosphere creates a romantic and warm flavor and adds a lingering classical charm. The six sides of the central pillar are made of mirror material. It is like a mysterious magic mirror when the lights come on, reflecting the romance of paradise and increasing the overall layering.
Parachute Tower
The Magic Amusement Park Series Parachute Tower Music box is based on the design prototype of the classic ride from the amusement park. Modifying it into a super creative and fun model with the reciprocal lifting parachute staggering ups and downs
The overall style leans toward European retro style, and the ceiling adopts the shape of the six mangoes, the six mangoes' finial symbolizes guardianship and blessing. The hexagonal base echoes the shape of the ceiling, and the classical drapery-style side windows are made of translucent materials that transmit warm light, providing a full sense of an amazing atmosphere. There are three lights in total, which are the constant light of the roof, the center column, and the flowing light inside the base.
The internal drive shaft is cleverly used to achieve the reciprocating motion of vertical parachute lift. The music 'Falling Flower' will be automatically played when running, and the light effect is integrated with the background music so that you can enjoy a pleasant time with the melody simulating a realistic amusement park.

Ferris Wheel
Build a classic Ferris Wheel with the Amusement Park Series DIY Music Box 3D Wooden Puzzle. Feel the satisfaction of putting together the pieces and be rewarded with a beautiful tune when it's complete. Enjoy a unique, enriching and calming experience.
The Ferris wheel is composed of multiple wooden cabins, each finely carved to display a unique appearance. The cabins are connected by wooden supports, enhancing overall stability.
The rotation of the Ferris wheel is driven by a central rotating shaft. This shaft is connected to the music box's internal gear components, ensuring a smooth rotation of the Ferris wheel during music playback.
The music box uses a winding mechanism to power the gears inside. As the spring releases energy, it drives a metal cylinder with raised pins that pluck the teeth of a comb-like structure, producing the melody.
Romantic Carousel
Relive the magic of the carousel with this nostalgic 3D wooden puzzle. Build it with your own hands, and let the captivating music of "Carousel Waltz" fill your space with a sense of wonder. Get lost in the dreamy atmosphere and make special memories with this unique musical DIY puzzle!
MERRY-GO-ROUND:

 

Classic outlook and real carousel mechanism. The inner horses go in the opposite direction of the outter stage when the tune is playing.
WIND-UPWIND UP MUSIC BOX:

 

Driven by wind-up spring and gear trains, this 3D wooden puzzle toy will be a tons of fun to build and play with your family.
LAMINATED STRUCTURE:

 

Its delicate decoration will be a wonderful collection and decor for your home or office. Also a pleasent toy to play with kids or friends.
UNIQUE GIFT:

 

A beautiful hands-on gift for any DIY lover or any occasion like Christmas, holidays, or birthdays.
 Sunset Carnival
 Discover an enchanting world with the Sunset Carnival Retro TV DIY 3D Puzzle. This DIY music box kit features an immersive, story-like scene with a rotatable Ferris wheel, circus, and more. Assemble all the pieces to recreate the beautiful golden sunset of the amusement park, and treat friends and family to a stunning show. This carefully crafted, uniquely designed puzzle is sure to provide hours of fun.
The top light & backlight create a dreamy sunset atmosphere. Sunset and the Ferris wheel reflect each other's radiance. Watch a beautiful sunset in your room at any time.
Turn the left button on the TV to control the lights; turn the right button to play the music: 1. Johann Sebastian Bach - Minuet in G from Anna Magdalena; 2. Beethoven - Minuet in G Major
Built-in portrait silhouettes of visitors, roller coaster silhouettes, etc. restore the real amusement park scene. Bring a burst of childhood nostalgia. Featuring a classic circus scene with a famous unicycling bear, its intricate detail brings charm and whimsy to any room.
No batteries needed. The back of the music box embedded type-c interface, easy control switching lights on and off, environmental-friendly & power saving.
Upgraded material, full-fit bayonet assembly plus German laser-cutting technology, no glue needed, easy to assemble.
Puzzle Pieces

Tit-A-Whirl Spinning Cups

280 pieces

5.5h assembly time

Magic Swing Ride

289 pieces

6h assembly time

Parachute Tower

184 pieces

5.5h assembly time

Ferris Wheel

232 pieces

1.5h assembly time

Romantic Carousel

336 pieces

4.5h assembly time

Sunset Carnival

174 pieces

7h assembly time
Material

High quality natural eco-friendly wood
Dimension

Assembled Size:

Tilt A Whirl Spinning cups

H:7.28"(18.5cm)

W:7.76"(19.7cm)

D:8.82"(22.4m)

Swing Ride

H:8.7"(22cm)

W:8.7"(22cm)

D:10.6"(27cm)

Parachute Tower

H:11.8"(30cm)

W:5.5"(14cm)

D:5.5"(14cm)

Ferris Wheel

H:11.1"(28.3cm)

W:3.9"(10cm)

D:13.3"(33.8cm)

Romantic Carousel

H:8.7"(22cm)

W:5.9"(15cm)

D:6.7"(17cm)

Sunset Carnival

H:16.3"(41.4cm)

W:5.6"(14.2cm)

D:7"(17.7cm)
View full details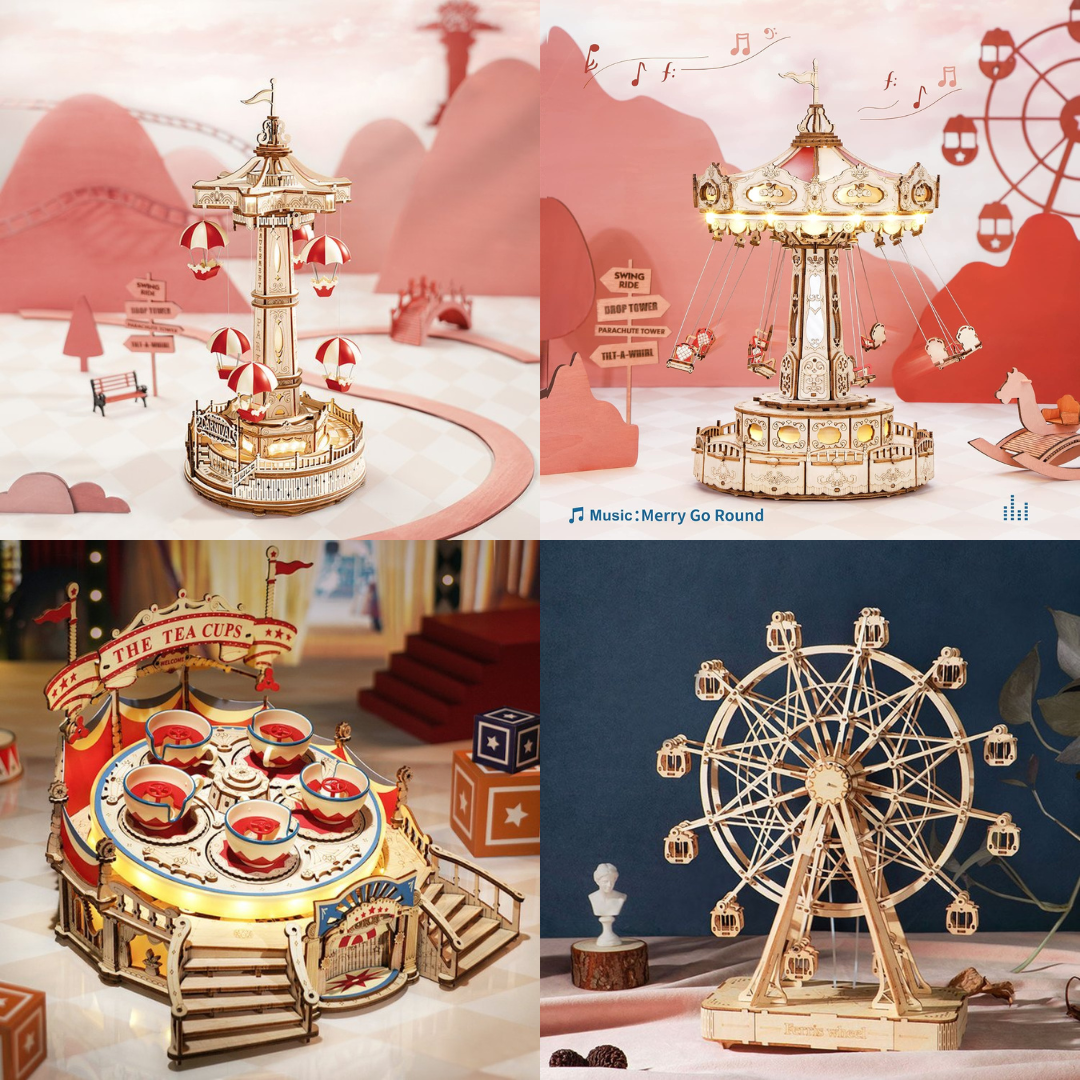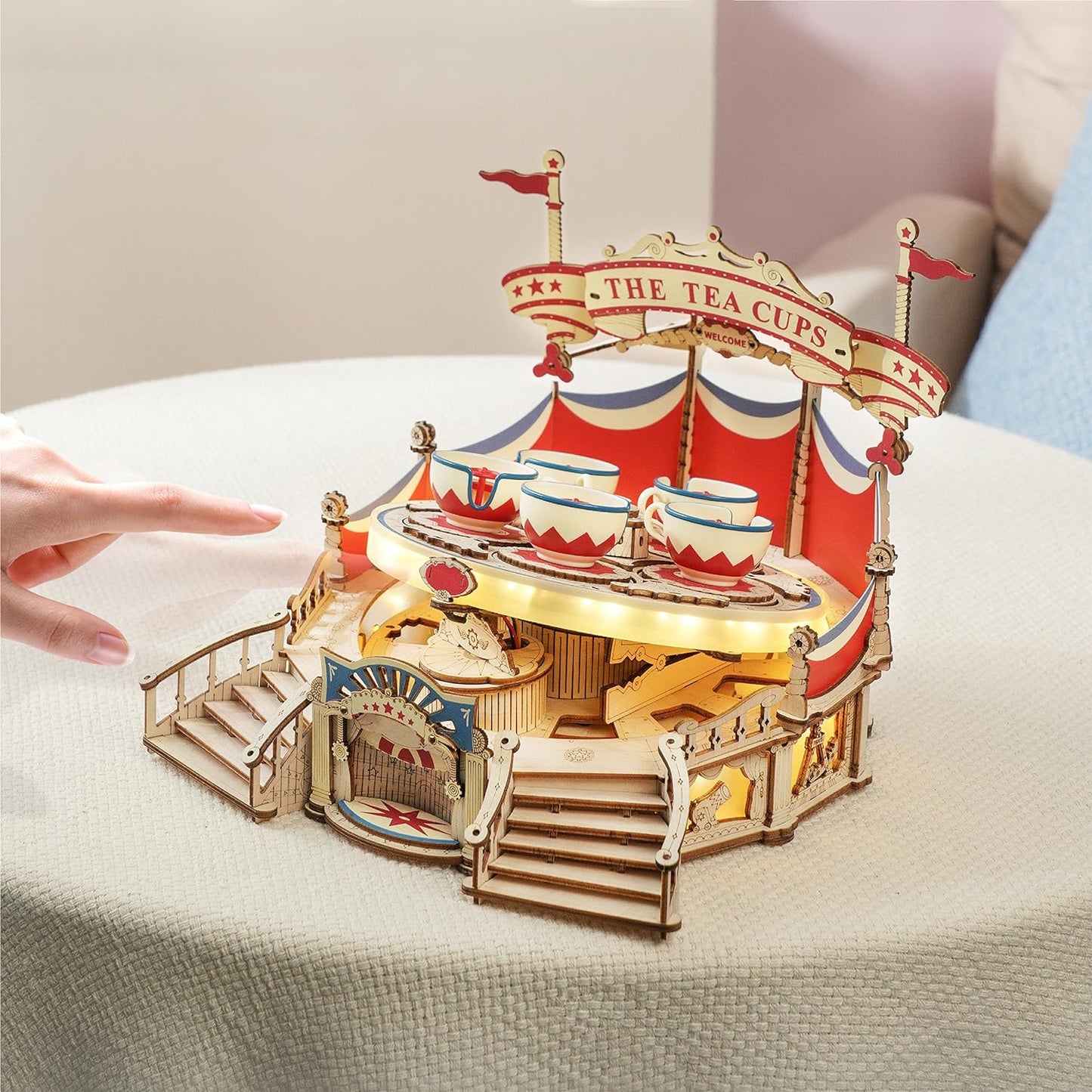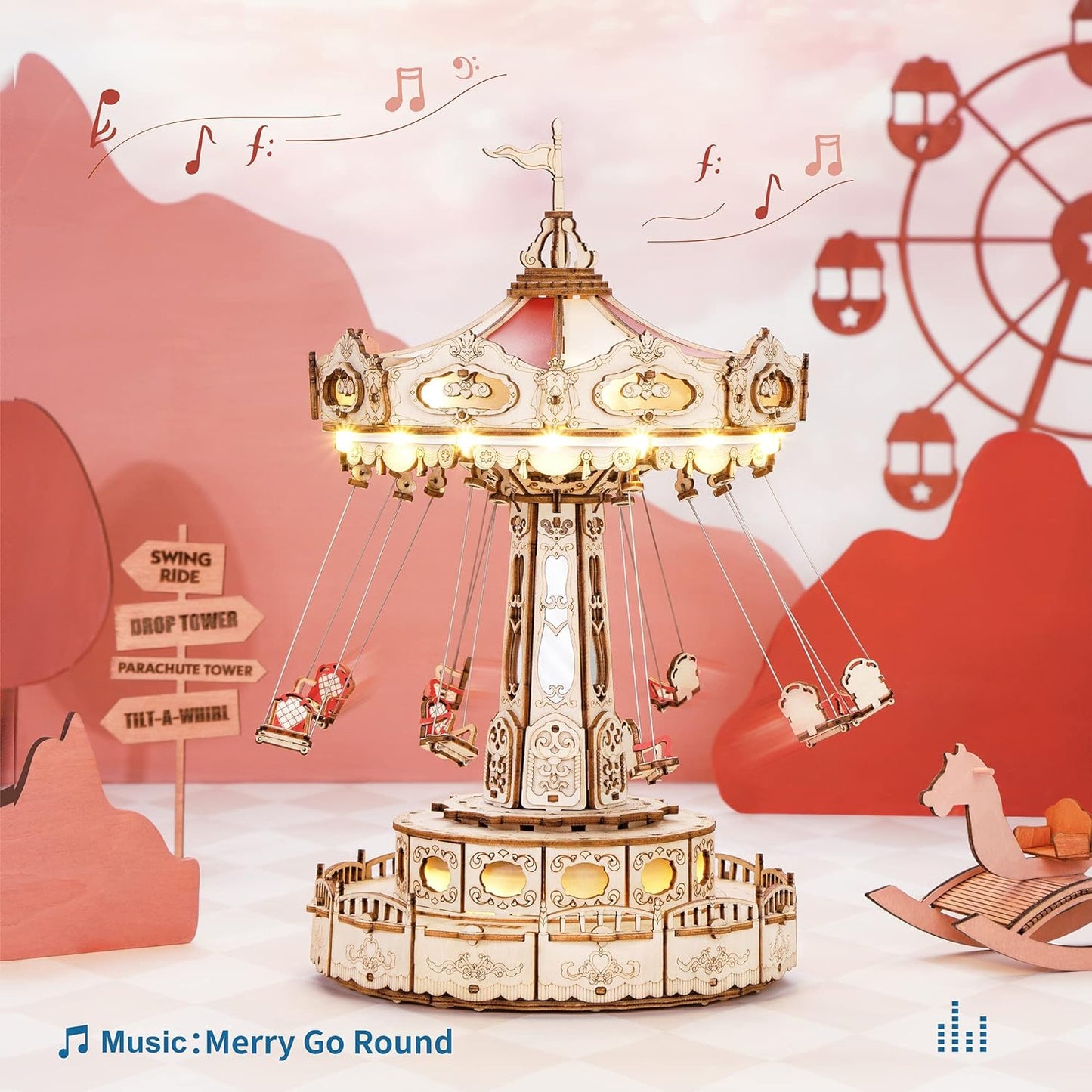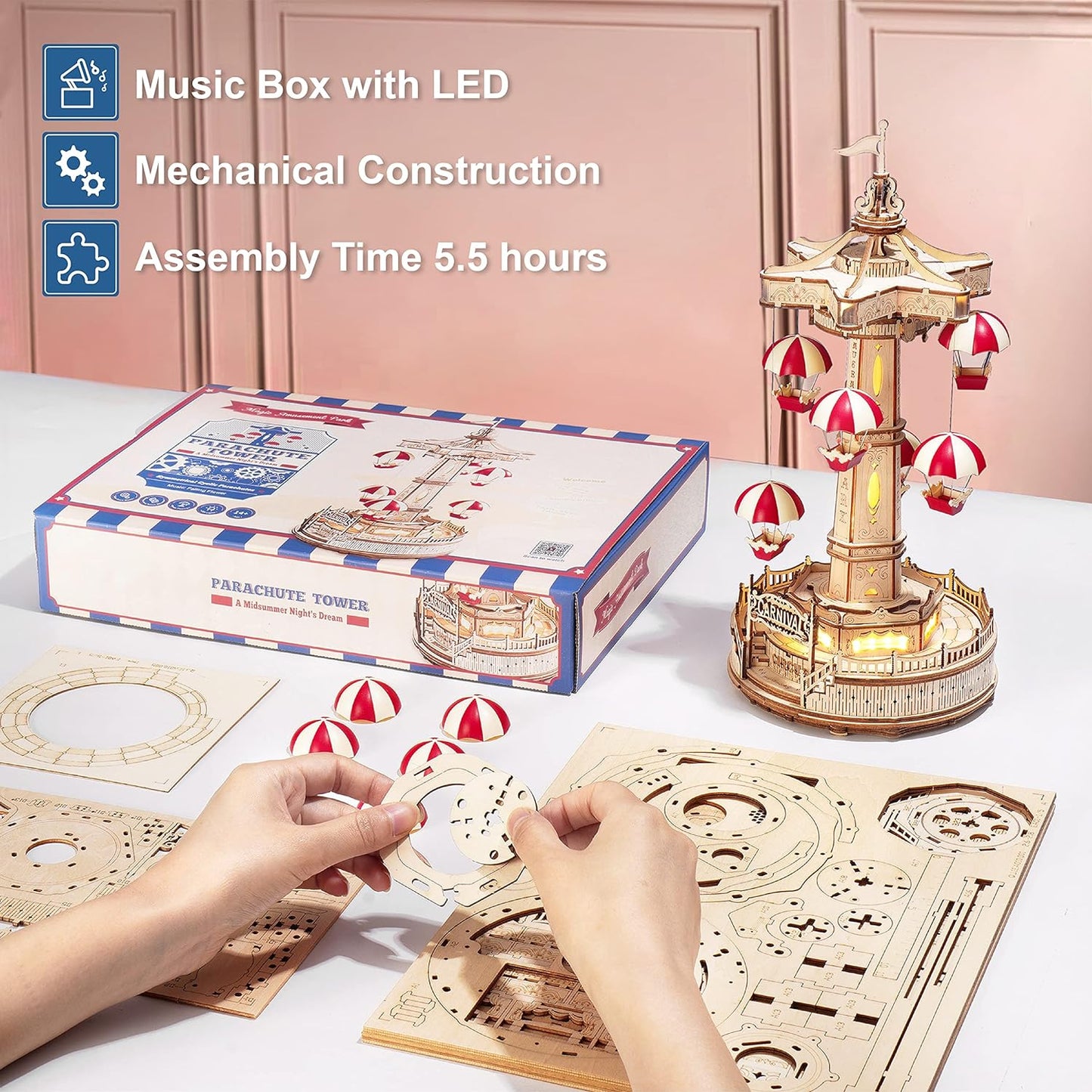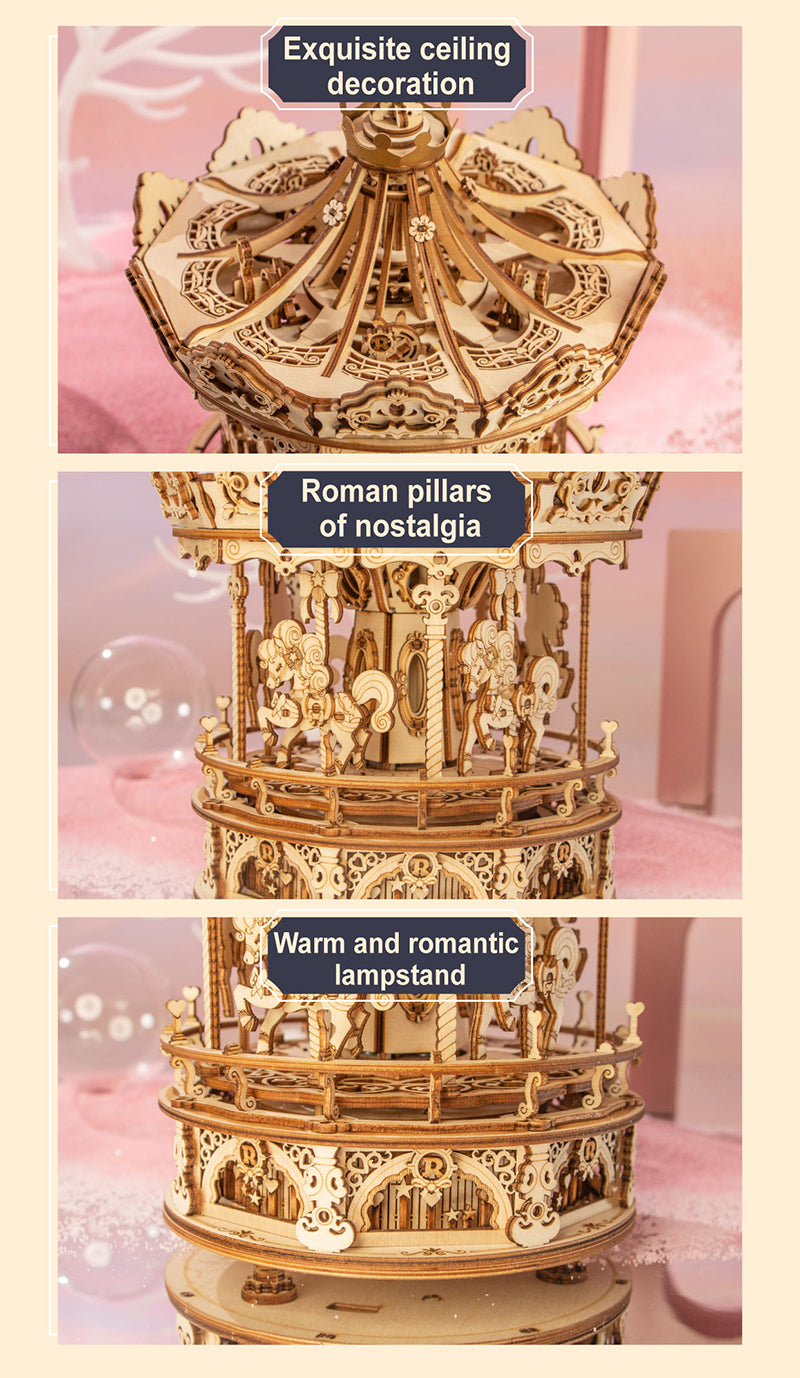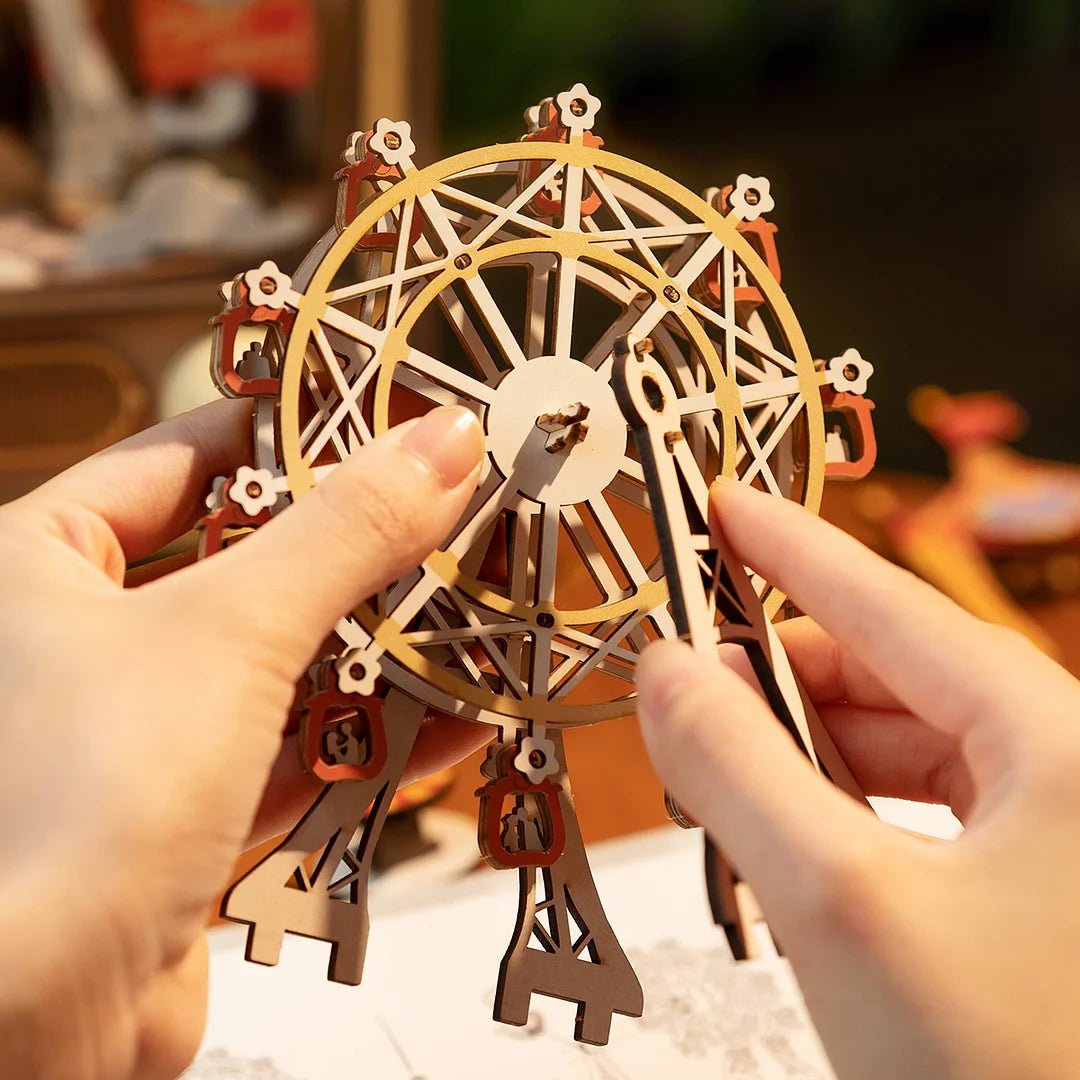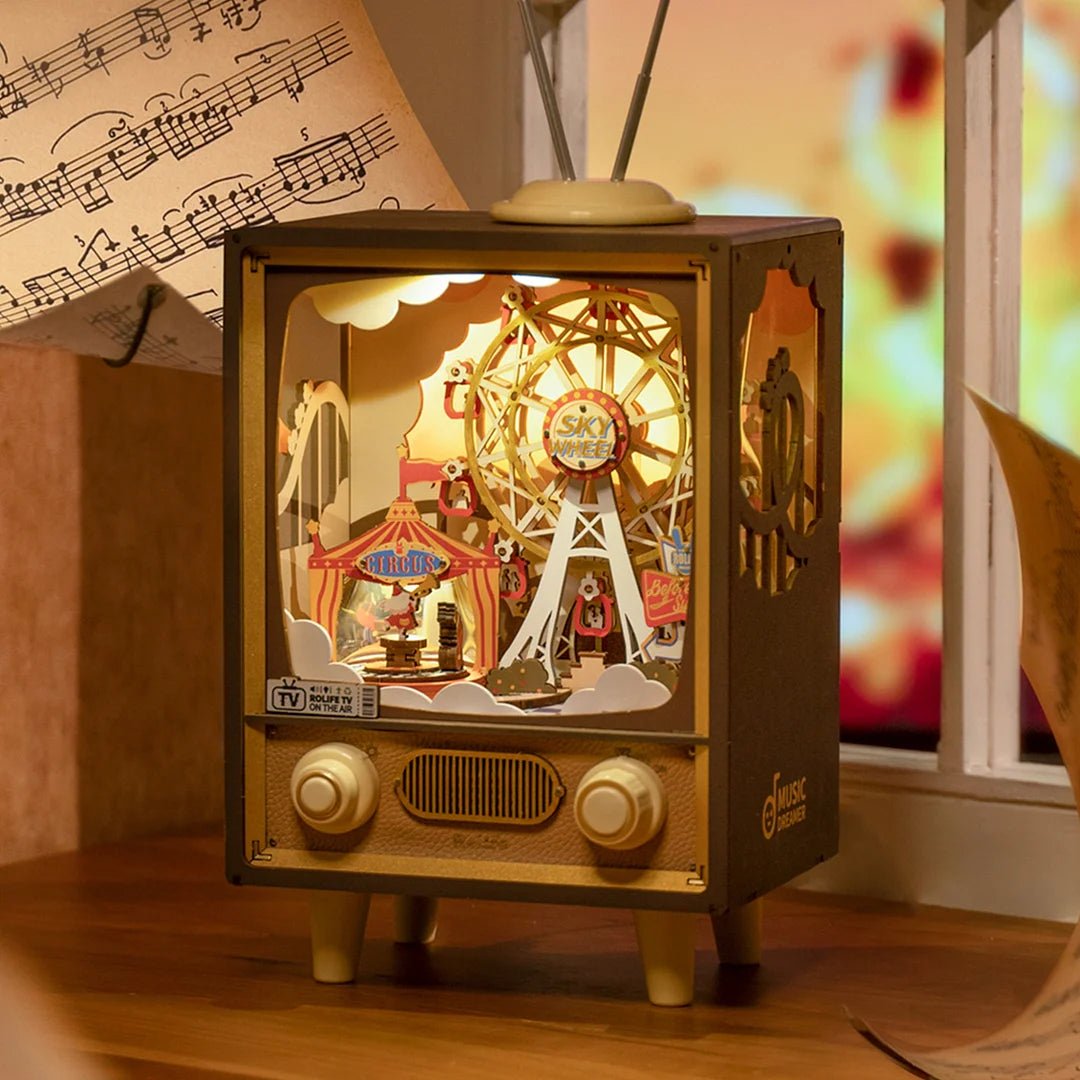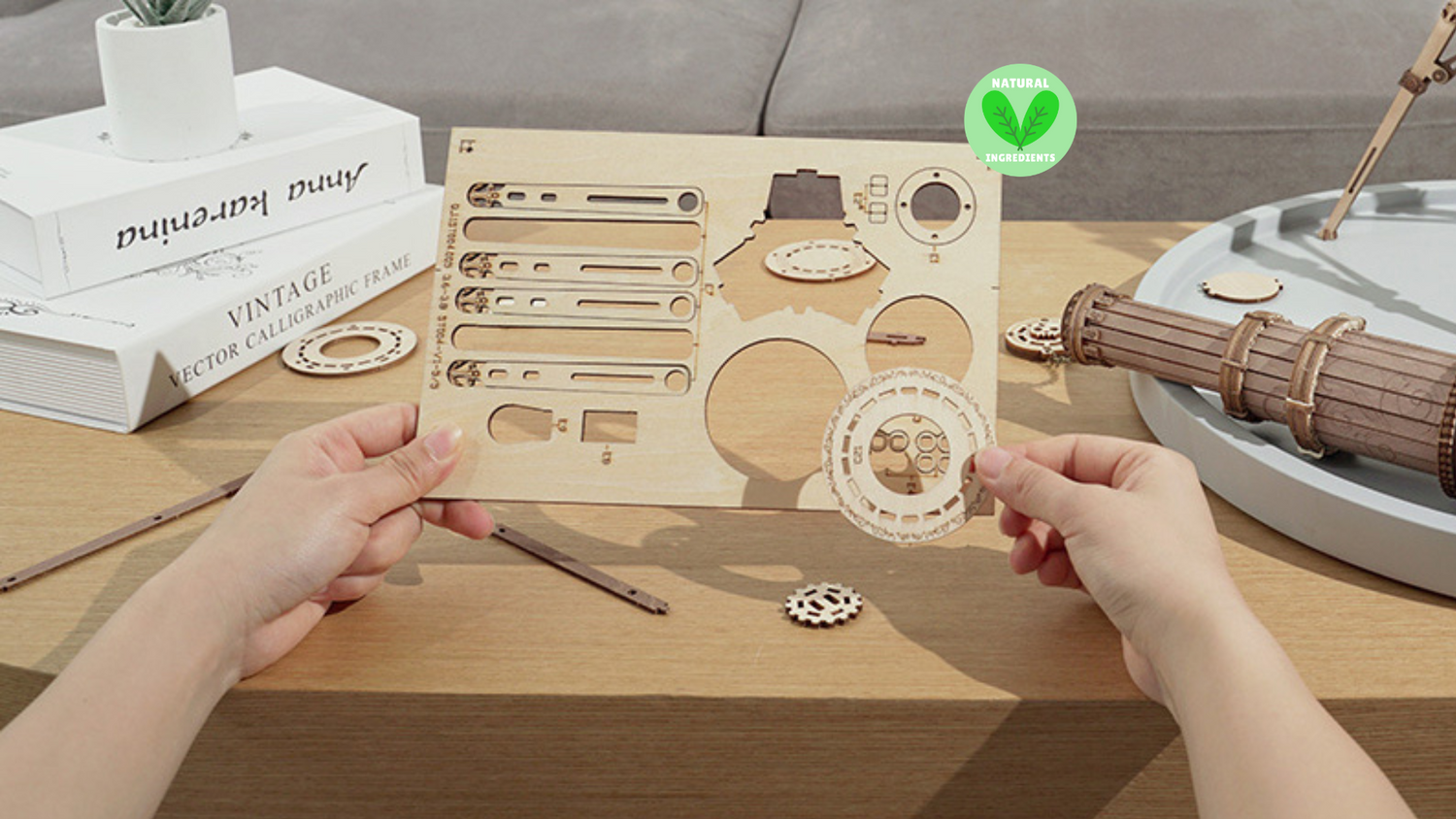 All Natural
Made with highest quality of eco-friendly wood to ensure the best outcome everytime. Laser precision wood cutting that is self-assembled without glue, adhesive or any chemicals.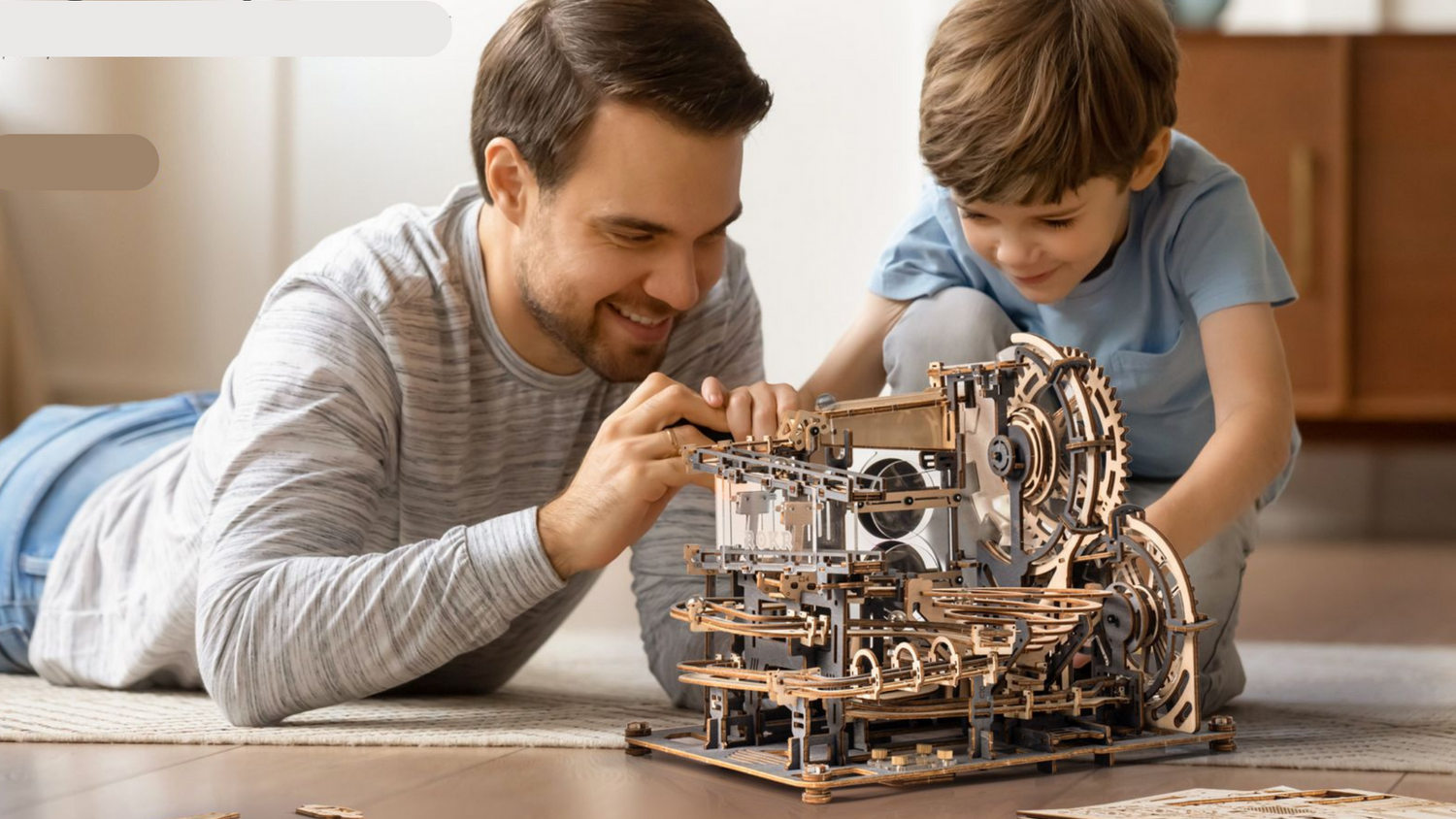 Enjoy Quality Time for Magnificent Results!
Craft your own amazing art pieces without any experience at all with clear illustrated instructions & support.
Frequently Asked Questions
Do you offer free shipping?

Yes free worldwide shipping is available on all orders
When will i receive my order?

The Processing Time will be 1 - 2 business days after we receive your orders.

Standard shipping time: 5-10 business days
What if i want to return my order

No problem! We offer a 30-days risk-free return policy. Please notice that returns must be in original packaging If the returned item is not in the acceptable condition, it will be refused acceptance.

If you receive a damaged product, do not throw away the packaging. Please contact us immediately at support@diyative.com. We will deal with it without a doubt.
What if parts have gone missing or broken during assembly?

We have provided extra parts in the packaging just in case this happens, but if you need more or you need to exchange for a new one please do not hesitate to contact us.
What if i can't figure out the puzzle

Please email us at support@diyative.com if you're faced with any difficulties during assembly, our dedicated expert will provide the best guidance for you.