Wonder at this elegant yet mysterious Cello self-playing its masterpiece!
Regular price
$89.99 USD
Sale price
$54.99 USD
Unit price
per
Sale
Sold out
Share
Transforming music artwork from the 18th century into a one-of-a-kind 3D Puzzle music box by incorporating traditional elegance and beauty into this Magic Cello design that has always been loved by many. 
The hollow structure of the body shows the intricate internal gear set, a six-petal flower embellished on it, the panel is engraved with a classic European pattern design. It is also interspersed with a number of magic elements, such as magic books, little witches, and cats, giving it a retro and mysterious visual experience. In addition, the base of the magic book depicts the story of the "Father Of the Cello" by Pablo Casals and the main self-playing cello echoes.
Puzzle Pieces

199 pieces

4.5h assembly time
Material

High quality natural eco-friendly wood
Dimension

Assembled Size

Magic Cello:

H:9.3"(24cm)

W:7.3"(19cm)

D:8.1"(21cm)

Magic Piano:

H:5.5" (14cm)

W: 6.7" (17cm)

D: 4.9"(12.5cm)

Electric Guitar:

H:6.7" (17cm)

W:4.1" (10.5cm)

D:8.7" (22cm)

Violin:

H:5.7" (14.5cm)

W:3" (7.5cm)

D:5.9"(15cm)

Drum Kit:

H:7.5" (19cm)

W: 5.3" (13.5cm)

D:4.3"(11cm)

Accordion:

H:2.95" (7.5cm)

W: 6.69" (17cm)

D: 3.74" (9.5cm)

Saxophone:

H:3.3" (8.5cm)

W:2.8 (7cm)

D:9.1" (23cm)
View full details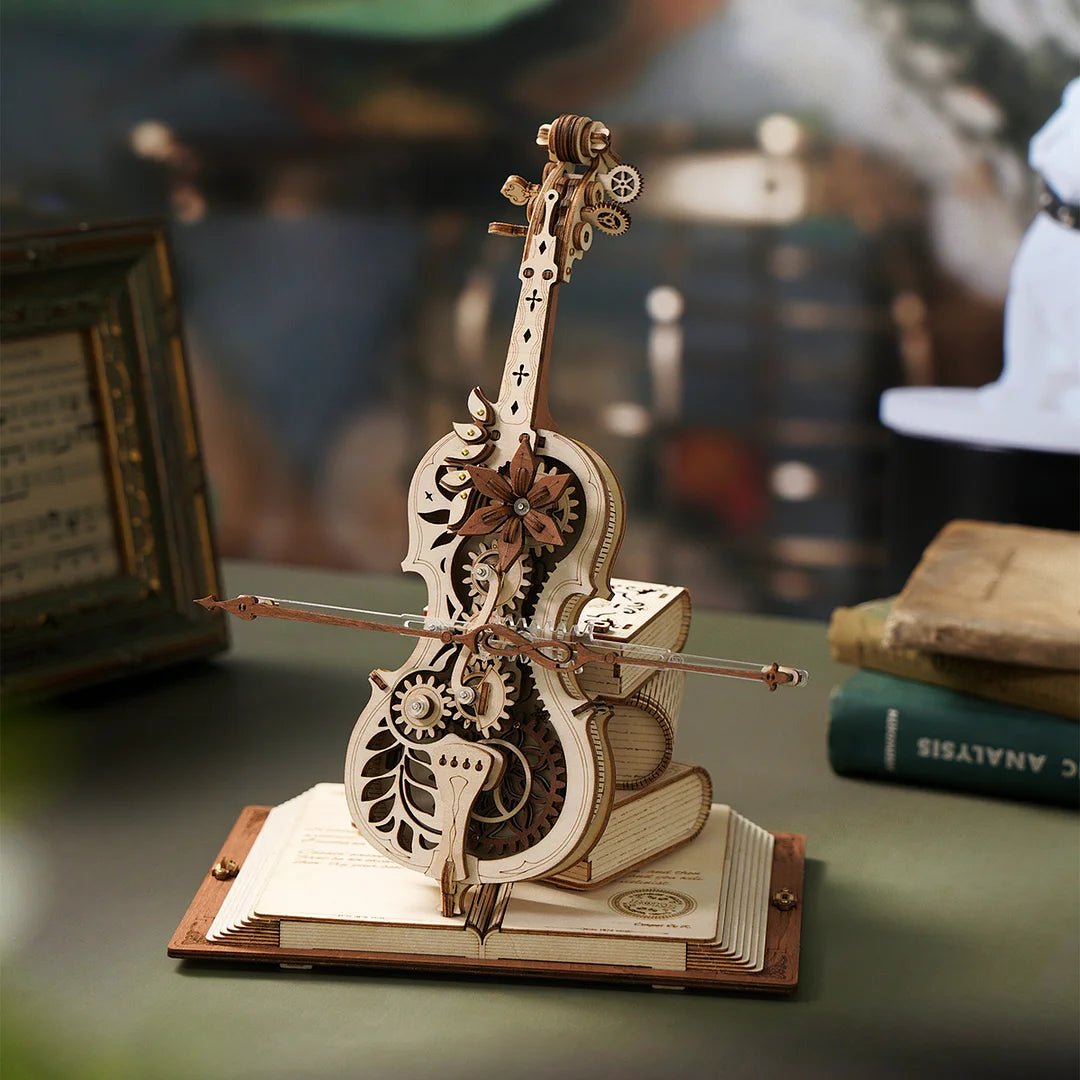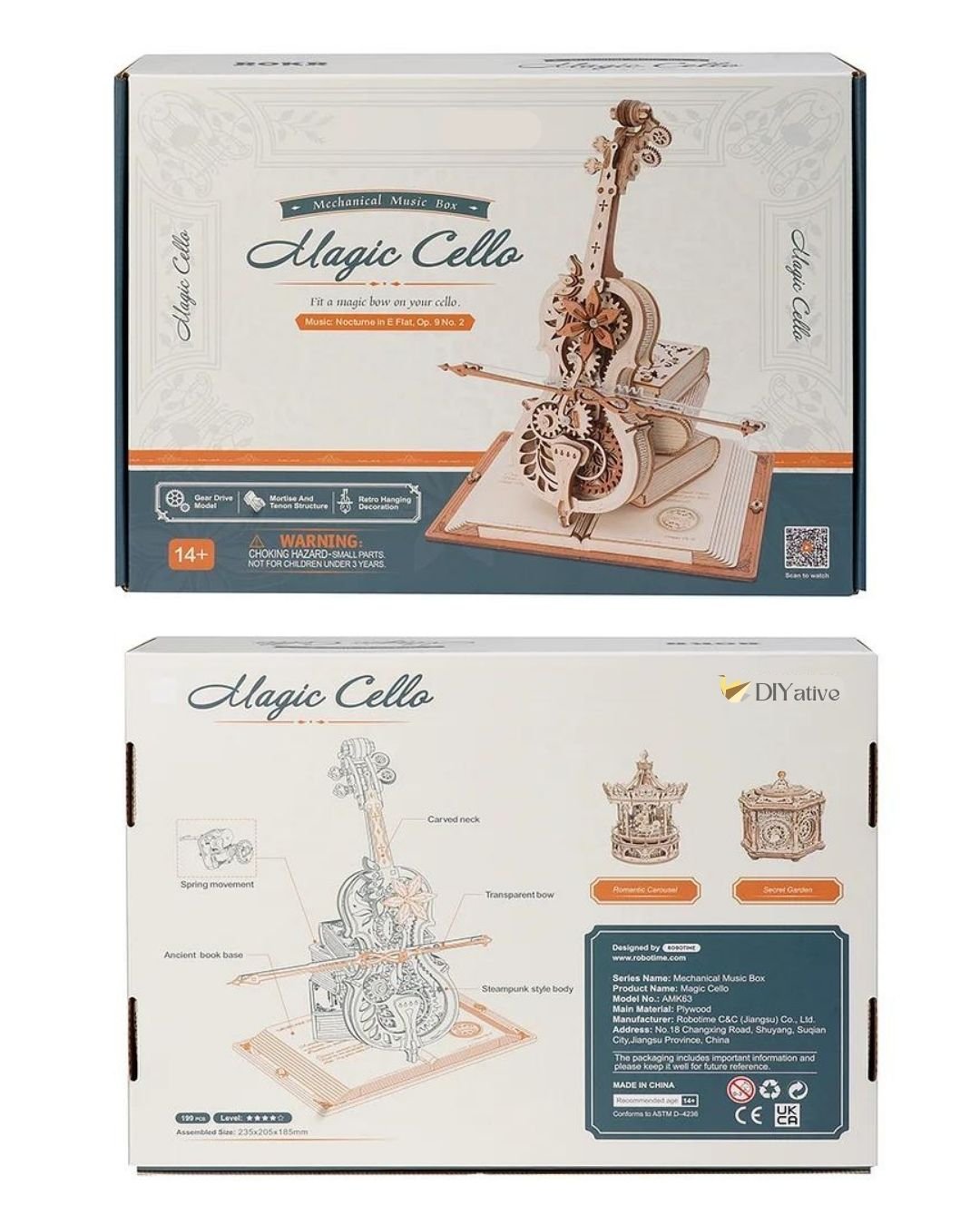 Self-playing Mechanism
The winding mechanism moves the bow horizontally from left to right and back again.
Six-petal Flower Gear Body:
Creative body design that's engraved with elegant and romantic patterns. The hollowed out body visually shows the internal multi-stage gear transmission, which makes you feel the wonderful collision of rigorous mechanism and romantic aesthetics.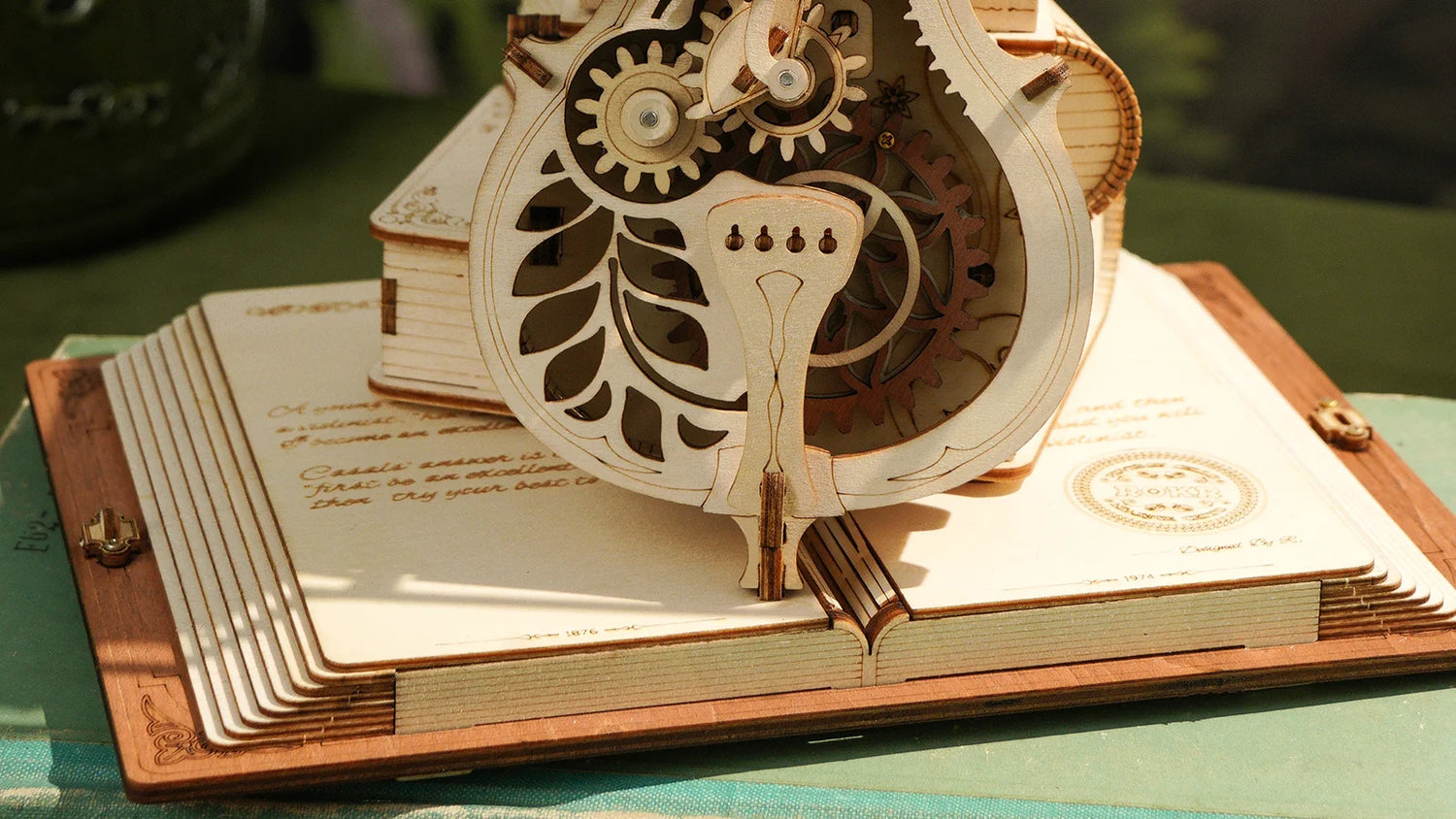 Mysterious Magic Ancient Book
The vintage brown original wood of the base book depicts a short story of "Father of the Cello" by Pablo Casals, accompanied by 3 magic books stacked behind the Cello with European, mysterious, retro book cover design.
Playing 'Nocturne, Op.9, No.2 in E-flat'.
Perfect Gift
No one would refuse such a creative and wonderful gift! This is more refined than an ordinary handicraft. Buy it as a thoughtful gift for yourself, family & friends and it's guaranteed to be appreciated.
Frequently Asked Questions
Do you offer free shipping?

Yes free worldwide shipping is available on all orders
When will i receive my order?

The Processing Time will be 1 - 2 business days after we receive your orders.

Standard shipping time: 5-10 business days
What if i want to return my order

No problem! We offer a 30-days risk-free return policy. Please notice that returns must be in original packaging If the returned item is not in the acceptable condition, it will be refused acceptance.

If you receive a damaged product, do not throw away the packaging. Please contact us immediately at support@diyative.com. We will deal with it without a doubt.
What if parts have gone missing or broken during assembly?

We have provided extra parts in the packaging just in case this happens, but if you need more or you need to exchange for a new one please do not hesitate to contact us.
What if i can't figure out the puzzle

Please email us at support@diyative.com if you're faced with any difficulties during assembly, our dedicated expert will provide the best guidance for you.